Yumi was born and raised in Tokyo. After working as journalist and bond trader, she became a full time environmental activist in 1990. Her first main focus was saving the tropical rain forests in Central America. At that time she started writing books about the wonderful journey and change in her life from a Tokyo business woman into a natural ecologist. She lives and teaches a simple life.
After the events of Sept 11, 2001 Yumi organized the internet based Global Peace Campaign, that contributed to a total of 15 peace advertisements in major newspapers in the USA, Italy and in an Arabic magazine in Iran (Persia).
Since then she has been pivotal in the translation from English to Japanese, of many peace related books and publications. They include: Addicted To War; Butterfly; Dennis Kucinich, The Peace President (This book introduced Dennis Kucinich to Japan. Dennis was a Democratic candidate for the US 2004 Presidential election. This book is only available in Japanese.); and four DVDfs; 911 In Plane Site, What Ifve Learnt About US Foreign Policy, Loose Change 2nd Edition (the Japanese site is here) and Genie in a Bottle Unleashed.
Yumi travels extensively in Japan and United States, giving lectures and interviews. She is a well known writer with innumerable articles appearing in a wide variety of Japanese national & international magazines and newspapers. (A small selection can be viewed here.) She has also appeared on Japanese national TV.
In 2004 Yumi produced the first Tokyo Peace Film Festival which showed six peace related documentary films. About 1000 participants joined that first event.
Yumi is currently organizing the 4th Tokyo Peace Film Festival that will take place in July 2007 as well as the 3rd Global Alliance Summit for Ministries and Departments of Peace that will be held in September 2007.
She lives in the countryside of Japan with her husband who grows most of what they eat organically. They are also raising two small children "organically."
Yumi and her family...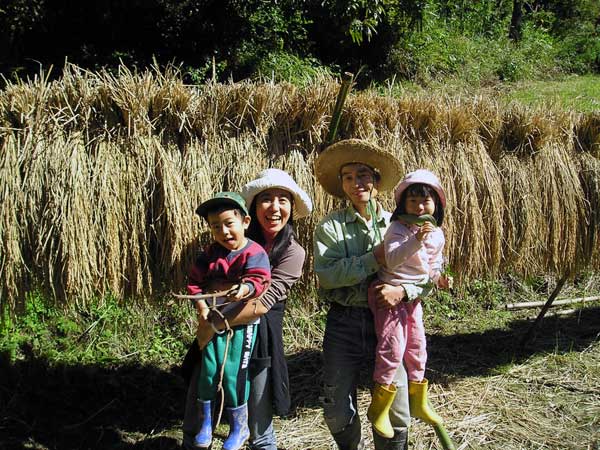 Yumi and her family in front of their harvest of rice!